GAMBLERS: THE LOSING CONTINUES

(Investigator 169, 2016 July)

B. Stett

GAMBLERS FINANCE CASINO UPGRADE
The Adelaide Casino is getting a $300 million transformation which includes a luxury hotel and more gaming tables and gaming machines. (Loussikian 2016)
The Casino, now owned by SkyCity Entertainment, opened in 1985 in the former Central Railway Station which received a $30 million makeover.
Massive spending on infrastructure and facilities along with salaries for 1000 staff is possible because gamblers mostly lose.
In the first six months of 2016 SkyCity expected earnings of about $170 million!
Such vast profits come from the pockets of thousands of losers — because gamblers who gamble against the odds usually lose.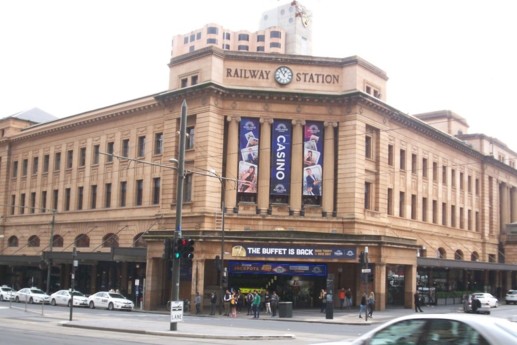 GAMBLERS ARE MOSTLY LOSERS
People who try to improve their finances by gambling nearly always make them worse!
Media reports and Internet search engines confirm that millions of gamblers worldwide lose $billions every month. Type "Gamblers Lose" into Google Search and you'll find numerous reports of gamblers losing!
An ABC report dated July 31, 2013 said: "A court heard a woman's gambling addiction led to defrauding the public purse of $100,000..."
The woman was a manager at the Family and Youth Services Department in Adelaide and had "made emergency funds applications for bogus victims of domestic violence" and "was found guilty of 271 counts of deception".
In 2007 Sydney's
Herald Sun
reported gambling losses in Victoria:
Gamblers have blown a staggering $1 billion at Crown Casino in the past year...

The Victorian Commission for Gambling Regulation annual report ... shows the gambling losses recorded in Victoria for the financial year were $4.7 billion, including racing, lotteries and sports betting.

The state government took $1.5 billion in taxes and levies... (October 30th)

Three years later gamblers' losses in Victoria had increased. The
Age
newspaper reported:
Victorians frittered away $5.1 billion at Crown Casino, the pokies, sports betting and lotteries last financial year. Of that, gamblers blew $1.3 billion at Crown Casino... (September 16, 2010)

International news agency Thomson Reuters reported that the revenue for Atlantic City casinos for the first six months of 2007 was $2.4 billion. (2007 July 10) Another Reuters report dated December 11, 2007 said: "Nevada casinos won $1.16 billion from gamblers in October, a 9.6 percent increase from the same month a year earlier..."
In Indiana (USA) gamblers can lose even when they win because if they have child support debts their winnings can be confiscated.
Effingham Daily News
reported:
Indiana casinos are becoming big collectors for the state's child support program.

More than $650,000 in winnings from slot machines have been intercepted from 376 men and women who were behind in child support payments. That money has been distributed to about 550 children.

The program, which was approved by state lawmakers, was launched late last fall... (August 8, 2011)

An estimated 90,000 to 170,000 Australian adults: "experience significant problems as a result of their gambling, with a further 230,000-350,000 experiencing moderate risks." (Cresswell, 2010)
One married couple gambled away $230,000 in 11 years at the Adelaide Casino. $110,000 had come from unemployment benefits obtained fraudulently by using an old birth certificate. (Sunday Mail 1997, February 23)
When losing continues for 11 years it should warn others that gamblers mostly lose, but warnings often fall on deaf ears! A single mother played the "pokies" for 13 years and lost $800,000 stolen from two employers. She appeared on the "7.30" program (Channel 2, 2012, July 12) prior to going to prison.
The Advertiser
(2011, May 12) reported on "high rollers" who cheated social security and used the money to gamble. Did they win? One lost $180,000 in one year at the casino, another $50,000.
The Mercury
(Tasmania) reported on "Tasmania gamblers … caught in a national crackdown on welfare cheats … who frequent casinos." (2011, April 18) Australia's welfare organization, Centrelink, requires people who gamble large sums while receiving welfare "to prove they aren't concealing assets and income".
500 clients had to repay money. Apparently none got rich from gambling since the report says: "Many have gambled away hundreds of thousands of dollars each." A NSW disability pensioner, for example, lost $350,000 and a Victorian tradesman $94,000.
The
Sunday Mail
reported that a Victorian football star earned $5 million during his career but "left the sport penniless and in mountains of debt." The problem was he gambled. He has now authored
All Bets Are Off
(2011) and says: "my wife handles all our finances." (2015 March 8, pp 20-21)
In 2011 the former Assistant Director of the NSW Crime Commission was found guilty of a $120 million drug importation plot. (The Australian 2011, August 11) His descent into crime was reportedly motivated largely by gambling debts.
The message bears repetition — gamblers mostly lose.
Britain's gambling industry was worth over £50 billion in 2005, which exceeded Britain's combined spending on transport and defence. Gambler Wayne Rooney "frittered away" £700,000 in five months; in America golfer John Daly announced he lost £32 million in 12 years. (Atherton 2006)
American businessman Terrence Watanabe who grew rich from his Oriental Trading empire lost $US127 million at Harrah's Entertainment in the biggest losing streak in Las Vegas history. (The Weekend Australian 2010, July 10-11, p30)
From Singapore came this report:
Two gamblers lost a combined $115 million in American dollars during baccarat sessions at the island nation's two casinos...

Kerry Packer (1937-2005) was a media tycoon, Australia's richest man, and a life-long high-stakes gambler who once lost $30 million to a Sydney bookmaker.
With a net worth of $6500million he was able like no one else to make ever bigger bets to regain previous losses.
He specialized in Baccarat risking up to $300,000 per hand but also liked Blackjack. He supposedly bankrupted London's exclusive Aspinall's casino in 1990, won $9 million from the Las Vegas Hilton in 1992, won $20 million at the MGM Grand in 1995, but lost $19 million in one night in 1987 playing Blackjack at the Ritz.
Packer never revealed whether he won more overall or lost more — although silence often speaks for itself.
In 2007 Frenchman Jerome Kerviel brought Paris-based Societe Generale to the brink of collapse with losses of £3.9bn. He had gambled by making unauthorized "off book" trades and balanced his account by creating fictitious transactions.
In 2008 Kweku Adoboli, son of a UN diplomat, was "a gamble or two away from destroying Switzerland's largest bank ... after he gambled away £1.4bn of UBS money". He exceeded his trading limits and made "unhedged investments which he explained away by arbitrarily extending the dates on which his deals were to be settled." Adoboli was also a loser in private life and had lost £123,000 in online gambling.
In America Michael J. Burke practiced law for 25 years in Michigan but gambled money from his clients' trust funds. In 2001 he was sentenced to prison and ordered to pay $1.6 million in restitution.
After his release he travelled extensively to give presentations on compulsively gambling and authored the book
Never Enough
(2009). He writes:
Gamblers must lose... The casino has a mathematical advantage in all table games, an advantage known as odds.... Any person can beat the odds in the short term, but if a person plays that game over a sustained period of time, the house must win...

The Daily Mail
reported that a gambler who bet $100,000 a hand playing Blackjack won $15 million in 6 months at three Atlantic City casinos:
Mr Johnson is also the CEO of Wyoming-based computer-assisted horse betting company Heritage Development.

Such an incredible winning steak has brought with it accusations of card sharking...

Card counters try to even the odds by accurately calculating the probability that certain cards will appear...

The counter assigns a numeric value to each card, and keeps a 'running count' of the tally... (2011 May 25)

The casinos banned Mr Johnson and now watch out for experts who even the odds. Ordinary Blackjack gamblers of course are welcomed and mostly lose!
Russian roulette is an illegal game of chance not offered at casinos, in which players take turns to spin the cylinder of a revolver containing a single bullet, point the muzzle at their own head, and pull the trigger.
People killed by Russian roulette include:
• American blues musician Johnny Ace in 1954.
• Finnish magician Aimo Leikas in 1976 in front of a crowd while performing his Russian roulette act.
• American actor Jon-Erik Hexum in 1984.
• In Commonwealth v. Malone, 47 A.2d 445 (1946), a Pennsylvania teenager's conviction for manslaughter as a result of shooting a friend during a game of
Russian roulette was upheld by the Pennsylvania Supreme Court. The court ruled that "When an individual commits an act of gross recklessness without regard to the probability that death to another is likely to result, that individual exhibits the state of mind required to uphold a conviction of manslaughter even if the individual did not intend for death to ensue." It is worth noting, however, that in the Malone case the teenagers involved played a modified version of Russian roulette in which they took turns aiming and pulling the trigger of the revolver at each other, rather than at their own heads... (Wikipedia)
Don't play Russian Roulette because you may lose more than your money!
King Charles II popularized horse-racing as a sport in the 17th century and the Jockey Club (founded 1750) in the 18th century.
By 1820 bookmakers were established and by 1875 enclosed race courses with entrance fees. Some people opposed betting on horses, but since racing enthusiasts included the Royal Family and members of Parliament it could not be stopped, only regulated. Regulation came about because rich people making big bets sometimes lost due to race-fixing or other "corruption".
Cricket became popular in the 18th century and people would bet on the toss, players' scores, the overall score, etc. Corruption flourished. In 1817 occurred a famous game in which both teams accepted bribes by different bookmakers and both played to lose!! Cricket, however, was also a lucrative spectator sport and by 1850 was regulated.
The 19th century saw increasing opposition to sports gambling in England and legal restrictions due to concern about workers taking time off to attend games or losing their wages and turning to crime. This attitude came from churches and influential people and carried over to other English-speaking countries.
In the 20th century church-influence declined, leisure and wages increased, betting on sport became widely tolerated, and governments made laws to regulate gambling.
Nevertheless match fixing, scandals and doping, involving players, illegal bookmakers, punters, police and criminals, regularly raised alarms and threatened the credibility of sport whether cricket, boxing, horse-racing, soccer, baseball, etc.
With the Internet, betting on sport went global and people could bet on any game, anywhere, any time. Cases of match fixing numbered hundreds in Europe. In Asia sport was overwhelmed by corruption.
As in other gambling, sports gamblers mostly lose even when the game is honest since the odds are against them, because bookmakers, sportsmen, organizers, etc, must all earn their living.
In Australia 600,000 adults play the pokies weekly and can lose $1000 an hour. One website explains: "Poker machines are business assets designed to generate an income for the owner, not deliver windfalls for gamblers."
If governments banned gambling it would be state paternalism — a "coercive curtailment of individual freedom." English philosopher and proponent of Utilitarianism John Stuart Mill (1806-1873) regarded individuals as sovereign over themselves even when they harm their own interests. Mill argued that the only purpose for which power can rightfully be exercised over individuals against their will is to prevent them harming others.
Widespread gambling of course causes "harm" including:
• Social demoralization
• Business layoffs/increased unemployment
• Business failures
• Reduced productivity
• Dysfunctional families
• Crime
• Divorce
• Inability to pay bills
Governments, however, depend on gambling losses to tax venue profits and help balance government budgets. To ban gambling would also merely send it "underground" and raise crime-rates.
Girolamo Cardano (1501-1576) author of
Games of Chance
(1564) was the first advocate of probability theory, which became a branch of mathematics.
Atherton (2006) writes that with the exception of professionals most gamblers reject probability theory:
For them, unseen mysterious forces such as luck, fate and omens play a more important part in their choices… A recent study into the methodology of 412 bingo players showed that most believed in luck in some form or another, whether it be lucky seats, lucky friends, lucky mascots, lucky numbers or lucky pens. A third of them believed in winning streaks. All this despite the complete randomness of the game they played. Unsurprisingly, perhaps, a good number of these bingo players read their horoscopes on a daily basis and believed in astrology and predestination.

Gambling losses follow the laws of probability and statistics year after year. Earnings of poker-machine venues bring Australia's state governments $4 billion in taxes every year. Again, this is because gamblers mostly lose. There is no year when gambling venues in Australia or America don't gain and don't pay tax.
And that's how it's always been. Chico Marx (1887-1961) who starred in the Marx brothers comedy movies was a persistent gambler. Despite high earnings as a successful actor he was totally broke by 1945.
Therefore remember: Gamblers who gamble against the odds mostly lose.
Atherton, M. 2006
Gambling A Story of Triumph and Disaster
, pp xviii, 305, Hodder & Stoughton
Cresswell, A.
The Australian
2010, December 20, p6
Loussikian, K. Adelaide casino gets nod for $300m transformation,
The Weekend Australian
, January 23-24, 2016, p31
Vlach, A. Casino is 30 years old? You bet it is,
The Advertiser
, 2015, December 13
Websites:
http://apps.americanbar.org/policy/reprints.html
sportsgambling.about.com/od/advancedtheory/a/bettorslose.htm
www.abc.net.au/rural/
www.abc.net.news/2013-07-31/gambling-addict...
www.americanbar.org/newsletter/publications/gp_solo_magazine_home/gp_solo_magazine_index/burke.html
www.gambling-stories.com/2015/02/biography-kerry-packer
www.independent.co.uk/news/uk/crime/ubs-trader-kweku-adoboli-gambled-away-14bn-8139074.html
www.lvrj.com/.../two-gamblers-lose-combined-115-million-at-lv-sands-casino-in-singapore-104813014.html
www.sunshinecoastdaily.com.au/news/...gamblers-lose.../1695767/
---
STOP BEING A LOSER
(Investigator 169, 2016 July)
Besides help from Gamblers Anonymous, government pamphlets and professional counseling, the gambler can also choose from among many helpful books.
A useful source is the Internet where
some books cost less than a single bet!
Here are some of the titles offered on the Amazon website:
Anonymous 1994

A Day at a Time

Custer, R. 1985

When Luck Runs Out

Davis, D.R. 2009

Taking Back Your Life

Heineman, M. 2001

Losing Your Shirt

McCown, W.G. & Howatt, W.A. 2007

Treating Gambling Problems

Schwarz, D. 2011

All Bets Are Off

Shaffer, H. 2012

Change Your Gambling, Change Your Life

Wexler, A, & S. 2015

All Bets Are Off

Wilkinson, A.2014

Gambling Addiction Cure
Being a loser is time-wasting besides being hurtful psychologically and financially. Others can point out that "Gamblers Mostly Lose" but the decision to act positively on this information is the gambler's.
Thoughtful analysis of relevant and controversial topics on this website: