1079 Life Revisited

(Investigator 183, 2018 November)

Adelaide's Christian radio station "1079 Life" celebrated 25 years of broadcasting in October with an Open Day and guided tours, and a Gala Dinner a week later.
"Kit", one of the tour guides, showed the group the offices of CEO David Turrell, sales manager Ian, and Sally who handles finances — as well as the coffee room, Board room, Broadcast room, Prayer Hall (the Station has a prayer team of sixty), the sound treatment room (where ads are produced and which is designed to prevent echoes), and finally the Studio.
The photo shows the Studio along with radio announcer Jayne, microphones, and the audio console (which combines sounds and converts voice and music to digital). From here the signal goes to the Broadcast room and then by microwave to a microwave receptor at Mount Lofty where it is converted for transmission to all Adelaide.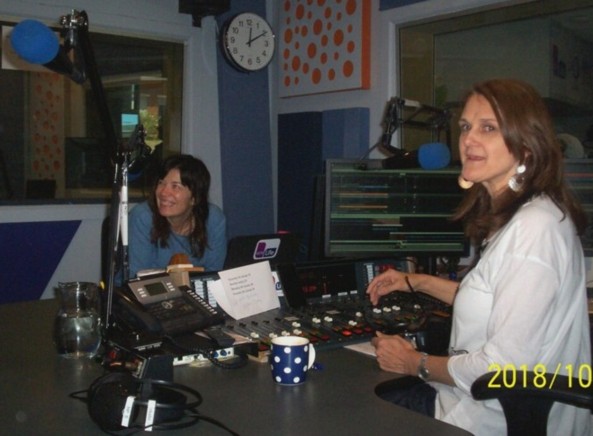 The Studio

1079 Life was called "Alta Mira FM" when visited by "Investigator" on a previous Open Day in 1996. The location has changed too; it's now at Butler Drive, Hendon. And a complete turnover of staff has seemingly also occurred.
In 1996 the event was held to raise money since donations had declined 20%; and in 2018 finance is again a problem. The letter of invitation by CEO David Turrell said: "The station finds itself in a tight cash-flow situation, and we would ask you at this time if you might consider giving us a special Birthday gift of financial support..." The Gala Dinner invitation similarly asked for a gift and suggested various amounts. And a 4-page brochure titled "Inside Life" added: "Running a radio station is an expensive business..."
In 1996 Alta Mira had a staff of 16 including four radio announcers, and the listening audience numbered 60,000. Now in 2018 the listeners number 300,000.
It is still an "evangelical radio station". Its statement of Vision and Values says: "Life FM aims to challenge and influence contemporary thinking by presenting a Biblical worldview through broadcasting..." The Station still plays both Christian contemporary music and mainstream, still introduces Christian artists, and still intersperses the music with "Words of Life" i.e. with short sermon-like talks and Bible quotations. Heard twice for a half hour on Sundays is Michael Youssef, famous for his "Leading the Way" ministry.
The Station is described as: "an interdenominational organization run by a board of Christian business people..." However, the Assemblies of God, as in 1996, appear more involved, and beliefs consistent with them such as the Universe being only 6000 years old get promoted. Paul Newsham who hosts a two-hour Sunday night segment became an Assemblies of God assistant pastor in 1973 and is now a senior pastor.
Alta Mira FM was launched on October 1993 by SA Premier Lynn Arnold who later became an Anglican priest.
(BS)

See also:
Reflections on Life