RIPLEY'S BELIEVE IT OR NOT
(Investigator 185, 2019 March)
Introduction
"Ripley's Believe It or Not!" is an American franchise founded by Robert Ripley which collects and publishes reports about everything bizarre, freakish or strange.
It began as a newspaper cartoon panel in 1918 which became popular and was later adapted to books, radio, comics, "odditoriums" (museums), television, aquariums and Internet. In 1936 Ripley's fame was such that the

New York Times

voted him America's most popular man.
In 2015 Ripley Entertainment Inc. was a global company with 32 museums and three aquariums, getting 12 million visitors annually. The Ripley archive contains 25,000 photos, 100,000 cartoons and 30,000 artifacts.
The centenary in 2018 was marked with the publication of the book

Ripley's Believe It or Not! A Century of Strange!

It is promoted as an, "all true, all new collection filled with incredible facts, unbelievable stories, and mind-blowing photography … and hair-raising oddities from around the world."
Robert Ripley
Robert Ripley (1890-1949) was born in Santa Rosa, California, was married for seven years, and made his first around-the-world trip in 1922.
His original cartoon segment titled "Champs and Chumps" focused on sports and premiered in 1918 in

The New York Globe

.
Soon Ripley included non-sports items and in 1919 changed the name to "Believe It or Not!" In 1923 he transferred to the

New York Evening Post

and in 1924 hired bank teller Norbert Pearlroth who became his main researcher. Pearlroth reportedly spent 10-hour days, six days each week for 52 years in the New York Public Library to find and authenticate unusual facts. That in itself seems a "believe it or not!" effort!
In the 1920s to 1940s Robert Ripley's search for everything bizarre covered 750,000 kilometres to 200 countries including New Guinea, Afghanistan, China and Armenia.
In 1929 Ripley got a collection of his newspaper cartoons published as a book. His second book came out in 1931.
In 1930 Ripley transferred to the

New York American

. He was noticed by publishing mogul William R. Hearst and syndicated internationally in 17 newspapers by the King Features Syndicate.
Ripley expanded into other media, in 1930 to radio and film. In 1933 he opened his first museum or "Odditorium" in Chicago. In 1948 came the first

Believe It or Not!

television series.
At peak popularity

Ripley's Believe It or Not!

was read by 80 million readers and fan mail received totalled 1 million per month.
Ripley's legacy lives on in Ripley Entertainment, a company owned by the Jim Pattison Group in Canada. Ripley Entertainment airs television shows, publishes

Believe It or Not!

books and has holdings in Ripley's Aquariums and Museums.
The Books
The total "Believe It or Not" book titles, is hard to tabulate because multiple publishers published them. The "Library Thing" website lists 141 but it's not a full list. The following too is incomplete:
Ripley's annotated cartoons were republished in hardcover books during and after his life:


•

Ripley's Believe It or Not

(1929) [Reprinted in 2004]
•

Believe It or not! by Ripley The Big Little Book

(1931)
•

Ripley's Mammoth Book of Believe It or Not

(1953)
•

Ripley's 35th Anniversary Believe It or Not

(1954)
•

Ripley's 50th Anniversary Believe It or Not

(1968)
•

Ripley's Giant Book of Believe It or Not

(1976)
In the 1950s to 1980s came 33 "Believe It or Not" paperback pocket books of annotated cartoons labelled "Series 2" to "Series 34".
Starting in 2004 Ripley Entertainment published various "series" named "Brand New", "Annuals", "Twists", "Fun Facts and Silly Stories", "Curioddities", "Activity Books", "RBI" ( Ripley's Bureau of Investigation), and "Other Titles". These are mainly aimed at children and currently have about ten books in each series, excepting "Annuals" with 18 books of interest to adults:
•

Ripley's Believe It or Not

(2004)
•

Ripley's Believe It or Not Planet Eccentric

(2005)
•

Ripley's Believe It or Not Expect the Unexpected

(2006)
•

Ripley's Believe It or Not The Remarkable Revealed

(2007)
•

Ripley's Believe It or Not Prepare to be Shocked

(2008)
•

Ripley's Believe It or Not Seeing Is Believing

(2009)
•

Ripley's Believe It or Not Enter If You Dare

(2010)
•

Ripley's Believe It or Not Strikingly True

(2011)
•

Ripley's Believe It or Not Special Edition

2012 (2011)
•

Ripley's Believe It or Not Download the Weird

(2012)
•

Ripley's Believe It or Not Dare to Look

(2013)
•

Ripley's Believe It or Not Reality Shock

(2014)
•

Ripley's Believe It or Not Eyepopping Oddities

(2015)
•

Ripley's Believe It or Not Impossibly Amazing

(2015)
•

Ripley's Believe It or Not Unlock the Weird

(2016)
•

Ripley's Believe It or Not Shatter Your Senses

(2017)
•

Ripley's Believe It or Not Out of this World

(2017)
•

Ripley's Believe It or Not A Century of Strange

(2018)
Another book in a separate series and also of interest to adults is:


•

Ripley's Believe It or Not Unbelievable stories for guys

(2012)
In 2001 began a yearly, hardcover, "Special" or "Scholastic" series often advertised "For ages 9+ years" and also totalling to date 18 books.
Comment on four books
My home library has the four Ripley books above underlined.
Graphics in the 1976 book consist entirely of cartoons. The 2010 and 2015 books have photos and almost no cartoons. And the 2012 book has a few black silhouettes only.
People featured in these books include those with physical anomalies such as the "Elephant Man", midgets, giants, conjoined twins, the limbless who accomplished amazing feats despite their handicap, and others. Another group are people who make themselves physically unusual via surgery. This might include vampire-like teeth, elfin ears, or resemblance to a movie star or a super-hero. Many seem to be pursuing an obsession that they hope will make them noteworthy and get them immortalized in print and photos.
We also read of strength, endurance, memory, wealth, gluttony, survival, and longevity feats. In the natural world we're told about all sorts of wonderful or inexplicable phenomena such as a lake in Tibet which is, "alternately drinkable and salt water every 12 years." (1976 Book)
Animal entries are common — often animals that are unusually big for their species or with extra heads, eyes or limbs. Having once edited an article titled "The Bible and the Crocodile" (Investigator #28) I was interested to read (in the 2015 book) that the largest specimen ever captured, 21 feet long, was in the Philippines, and weighed over a ton. Perhaps Ripley's here got the weight wrong, because another entry in the same book mentions a smaller crocodile (18 feet) in Australia's Northern Territory which weighed twice as much — two tons! You can check that in the book, or believe it or not.
In 1191 King Richard the Lionhearted got the fortress of Acre to surrender by ordering "100 beehives tossed over its walls" (1976 book) — reminiscent of an

Investigator

Bible debate about whether the Israelites used hornets in warfare. (Investigator #113-115)
The 2010 book has a large section about vampires. It gives details about some famous ones and shows various kits and tools with which to subdue them, including silver bullets and pistols, vials of chemicals, pliers to remove their fangs, wooden stakes, crucifixes, holy water, etc. With so much effective weaponry in common use, it's no wonder that vampires are rare.
Ripley's seems to exclude stories of divine healing, magic, the supernatural and the paranormal because these are usually hearsay and can rarely be confirmed whereas Ripley's items undergo scrutiny to authenticate them. Therefore although Pentecostal churches, rallies and evangelists together produce thousands of alleged miracles every year, we don't see these mentioned in

Ripley's Believe It or Not!

books.
In fact, currently existing cults or religions are rarely ever mentioned or named in any context whatever. We don't, for example, find out which religion has the highest proportion of confirmed child-abuse victims or is credited with the greatest number of failed prophecies.
An exception (in the paranormal), which Ripley's presumably authenticated, is a hermit in India able to, "answer questions in any of the world's 1,000 languages … by mental telepathy!" (1976 book)
Aside from items that might offend, apparently anything goes — including whatever is strange, wacky, astonishing, improbable, surprising, incredible, extraordinary, outlandish, eccentric, preposterous, extravagant, shocking, fantastic, unconventional, outrageous, amazing or inspiring.
The 2012 book explains how the crop circle phenomenon started (p. 167), and mentions an April Fools newspaper report in Jordan in 2010 of a UFO-landing which panicked an entire town. (pp 167, 169) If you need to focus or concentrate consider this: "The natural movement of your tongue usually uses a lot of your brain's attention. So sticking your tongue out reduces that movement and leaves your brain free to focus on what you are trying to do." (p. 154)

Question: In what jobs would tongue-poking-out actually improve performance? Dentist? University lecturer? Parliamentarian? It sounds dubious.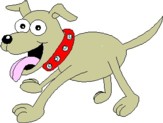 O.K. for dogs;
Dubious for people
The 2015 book ("Impossibly Amazing") is all photos (no cartoons) starting on the cover with a "Vampire Woman". The chapters are titled:
• Ripley's World
• Unbelievable Stories
• Crazy Animals
• Incredible World
• Remarkable Feats
• Awesome Arts
• Extraordinary Bodies. (In this chapter the Vampire Woman appears.)
• That's Weird
• Totally Bizarre. (This chapter includes a Vampire conference attended by 300 exorcists; A case of spontaneous human combustion in Ireland in 2008; And three examples of dead people who revived — one in the morgue refrigerator, one while being prepared for her funeral, and one during the actual funeral!)
Radio, Film, Television
From 1930 to 1932 Ripley hosted 24 short "Believe It or Not!" films.
In 1930 to 1948 "Believe It or Not!" went on radio in America in lengths of 15 to 30 minutes and by 1944 aired five nights per week.
The first "Believe It or Not" television series aired in 1949-1950 and was hosted by Ripley himself until he died after which other hosts substituted.
The second series aired from 1982 to 1986 on the American ABC television network. Another series was produced for Fox Family in 1999 and followed the adventures of Robert Ripley's nephew Michael Ripley. A fourth series aired from 2000 to 2003 on TBS.
Odditoriums and Aquariums
Robert Ripley's "Odditorium" at the Chicago World's Fair in 1933 featured cartoons, live performers, and artifacts, and had beds ready for visitors who fainted. After that came Ripley's trailer shows and exhibitions at fairs and expositions across the USA.
The first permanent "Believe It or Not Odditorium" had three floors of exhibits, opened in 1950 in Florida, and still operates. The largest one is in New York City. It reopened in 2007 and houses 1000 artefacts and interactive exhibits.
About 20 Odditoriums are located in the USA. Others are in the Netherlands, Australia (Surfers Paradise), India, Denmark, Mexico, Hong Kong, South Korea, England, Malaysia, Mexico, Canada, Thailand and China.
There's also a Children's Museum, located in Indianapolis, where children (and hopefully adults too) can do wonderful things such as, "Crawl through the body of a life-size model of a 50-foot prehistoric snake, or snap a family photo in the jaws of the megalodon shark."
You don't actually need to go to the Odditoriums to experience them because YouTube has videos of them produced by visitors. You won't see all the exhibits but you'll see plenty.
Ripley's Entertainment also runs three aquariums. The first opened in 1997 in South Carolina, the second in 2000 in Tennessee.
The biggest is Ripley's Aquarium in Canada which has 20,000 sea and freshwater specimens.

Visitors there last Christmas were offered breakfast "underwater" with "Santa" for $50! Wouldn't that have been interesting, especially if like everything else Santa's identity was checked and authenticated!
https://en.wikipedia.org/wiki/Ripley_Believe_It_or_Not!
https://en.wikipedia.org/wiki/Ripley's_Believe_It_or_Not_Annual
https://en.wikipedia.org/wiki/Robert_Ripley.htm
https://www.childrensmuseum.org/exhibit/ripleys.htm
https://www.librarything.com/series/Ripley's+Believe-it-or+Not!
https://www.ripleyaquariums.com/canada/
https://www.ripleys.com/a-century-of-strange/
https://www.ripleys.com/attractions/
https://www.thriftbooks.com/a/robert-ripley/801065/Robert Ripley