FRANK P. RUSSO (1953 - 2019)

(Investigator Magazine 185, 2019 March)

The large-print headline in

The Advertiser

read: "Eccentric scientist killed: son charged". (2019, February 9, p. 5)
We met "eccentric", Italian-born, Frank Pio Russo in "Door to Door Muscleman Gets Second Thoughts" (Investigator #21), "Russo A Relatively Great Name" (#31), "Mensa Candidate Ponders Big Questions" (#58), and "A Website Worth Investigating". (#172)
The Advertiser

report mentions Frank Russo's scholastic and bodybuilding accomplishments, similar as reported in

Investigator Magazine

, and adds: "Mr Russo claimed to have a cure for diabetes and said he could halt the aging process."
Russo's big ambition was to modify Einstein's Theory of Relativity and get a Nobel Prize. (#44; #45; #53; #149; #151; #165 - #168)

Investigator

#31 had a supplement titled "The Required Modifications For Relativity to be Universal" a version of which was later published in a physics journal. In #33 we considered whether success would make Russo Australia's first Nobel Prize winner in Physics or second.
Russo shared some of his medical insights in

Investigator

, but much more is on his own website including how to cure diabetes and damaged hip joints and halt aging. He helped to abort an acrimonious, going-nowhere, Evolution vs Creation debate with his articles "Halt Irrelevant Bickering" (#92) and "Quotes Alone Are Inadequate". (#94)
He considered himself "the Greatest Scientist ... of All Time", corresponded with politicians and other scientists, and got himself in the news regularly. The

Payneham Messenger

(1994, February 9) quotes him: "Having solved relativity and engineered a new perception of the universe ... I wanted more!"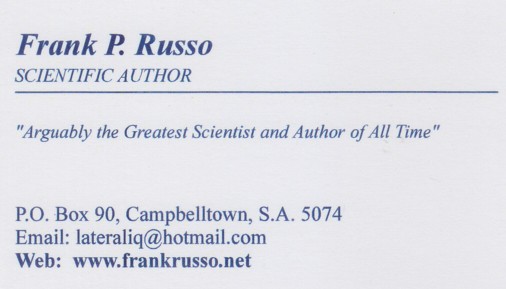 Russo was versatile — his website has 756 articles authored with few exceptions by himself — but academic recognition by peers proved elusive. Some of his science was wacky such as his claim that defrosting his freezer and thawing bottled ice (#160) could change the climate and produce rain.
Update:
Regarding the headline "Eccentric scientist killed; son charged". Prosecutors dropped the charge because, "Frank Russo suffered from a heart condition and ... the possibility he had died from natural causes could not be ruled out."
https://www.abc.net.au/news/2019-09-25/murder-charge-dropped-against-son/11546370.htm